Just launched, the new Genie Advanced portable pump for effortless pumping on the go.

+
Letdown & expression mode
Suction level up to 330 mmHg
Belt clip & lanyard
Rechargeable battery with 3 hours pumping time & USB-C charging

Bundled with Liquid Shield Kit
+
Please measure your nipple diameter (no areola) using the measuring tool.
The best shield size will fit snugly around your nipple, with no areola. If your size is not available, please go up to the nearest available size. Liquid Kit is quite flexible and forgiving of a greater size range e.g. if you're usually a 15mm, then the 17mm Liquid should feel great, or if you're usually a 19mm, the 21mm will be fine and so on. 
Need help? Visit the Fitting Room.
+
Vacuum range - 15 - 330 mmHg
Cycle speed (Expression mode) - 23 - 70 cpm (variable)
Cycle speed (Letdown mode) - 70 cpm (constant)
Weight - 250 grams (excl kit)
Battery life - 3 hours
Charging time - 4.5 hours
Motor life - 800 hours
Noise - less than 45 db(A)
+
Genie Advanced motor
Compatible with any closed system shield kit
Liquid Kit
Compatible with standard wide neck bottles
Our Awesome Moms
Customer Reviews
Write a Review
Ask a Question
10/13/2021
Stires, M.

United States
Love my pump!
I am very satisfied with this pump, let me tell you everything I love about it. First of all, it is very quiet which is a great feature, it is super powerful which makes it very efficient. When I turn it on stimulation, it doesn't shock me into pain like other pumps..it starts out bearable and of course you can build up from there. It also has the feature of being able to program to your own liking which is nice. The large screen is helpful to read and it comes with a handy lanyard and it also has a clip so you have the option of clipping it onto your pants. It is small yet powerful, it has everything you need and then some, it even came with bottle adapters, extra tubing, bottles, bottle caps, holders, and two different tubing adapters if you happen to want to use other flanges. You cannot go wrong with this pump! Let me also add one more thing, the customer service is very prompt and helpful, that really means so much!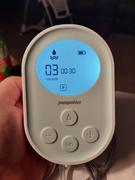 10/12/2021
Rebecca T.

Singapore
Genie Advanced Portable Breast Pump
Love that the pump is portable so I can carry it along. Able to yield almost the same as my s1.
10/12/2021
Andrea D.

United States
Great mobile pump
Powerful little pump that goes with me everywhere! I took a chance on this pump based on recommendations that it had a similar "pull" to the spectra… I honestly think it might even be better. For the price you can not go wrong.
10/05/2021
Paige H.

United States